These spiraling skyscrapers are some of the world's most eye-catching buildngs
–
Topping CTBUH's list in terms of height is Shanghai Tower, which twirls 632 meters (2,073 feet) into the sky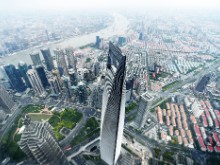 They are some of the most eye-catching buildings in the world: spiraling skyscrapers that twist and turn as they extend into the sky.
And it's a sight that's becoming more common, according to a new report that ranks the world's 28 twisted tall towers by height.
Defined as a building higher than 90 meters that "progressively rotates its floor plates or façade as it gains height", the report -- "Twisting Tall Buildings" by the Chicago-based Council on Tall Buildings and Urban Habitat (CTBUH) -- says 15 spiraled skyscrapers now exist, with a further 13 under construction.


"A stunning variety of textures, view angles and ripple effects result from these manipulations, making these 'twisters' some of the world's most iconic buildings," says the report from CTBUH, which is a non-profit organization that researches tall buildings and urban design.
Skyscrapers rethought
Twisted skyscrapers are a recent phenomenon.
The first specimen -- the Turning Torso, by Spanish architect Santiago Calatrava -- was built just 11 years ago in Malmo, Sweden.


Advances in construction, engineering and architectural computer programs have enabled this type of architecture to flourish, but it has required a fundamental rethink of tall buildings, Shawn Ursini, CTBUH's Skyscraper Database Editor, tells


While most tall buildings are made up of floor plates stacked on top of each other, which enables a standard design for components such as vertical columns and structural walls, Ursini says that in a twisted skyscraper even simple things like the dimensions of the windows need to be entirely revisited.


"The unconventional form of a twisting building means every component of tall-building design must be rethought, from the effects of wind on the structure, the forces and loads on the interior columns, the design differences in the shape of floors as the building rises, and so forth," he explains.
"All of these factors have rippling effects which must be considered in the overall design."
Buildings of the future
The growing number of completed twisted towers prompted CTBUH to compile its comprehensive list, but only one building -- Diamond Tower, a 432 meter (1,417 feet) skyscraper designed by Buruoj that is under construction in Jeddah, Saudi Arabia -- twists a full 360 degrees along its height, according to the report.


Shanghai Tower, designed by Gensler and completed in 2015 in Shanghai, China, is easily the tallest twisted skyscraper, of any built or planned.


Twirling 632 meters (2,073 feet) into the air, it's the tallest building in China, and the second tallest in the world after the famous Burj Khalifa in Dubai.


The two next tallest twisted buildings in existence -- Ocean Heights, designed by Andrew Bromberg of Aedas, and Cayan Tower, by Skidmore, Owings and Merrill, both of which are in Dubai -- stretch a little above a more modest 300 meters (984 feet).


Their places in the top three, however, are under threat.


Lakhta Center, a building in St Petersburg, Russia, designed by British architect Tony Kettle, will stretch to 462 meters (1,516 feet) upon its expected completion in 2018, making it the second-tallest twister in the world, while Diamond Tower, if completed as expected in 2019, will come in third at 432 meters.


And it may not be too long before Shanghai Tower's twirling heights are topped, thanks to the visual and engineering appeal of this type of architecture.


This type of design can make a building more aerodynamic and energy efficient, leading to an increasing number of twisted tall buildings entering the planning stages throughout the world.
"The unique form of the twisting tall building makes them very noticeable and allows them to stand out against the more typical forms found in high-rise buildings," says Ursini.


"There are two twisting towers now underway in Canada, known as Vancouver House and Telus Sky, as well as a handful of others planned around the globe. "