In recent days, officials have documented over 2,000 dead Mountain Whitefish on some stretches of the Yellowstone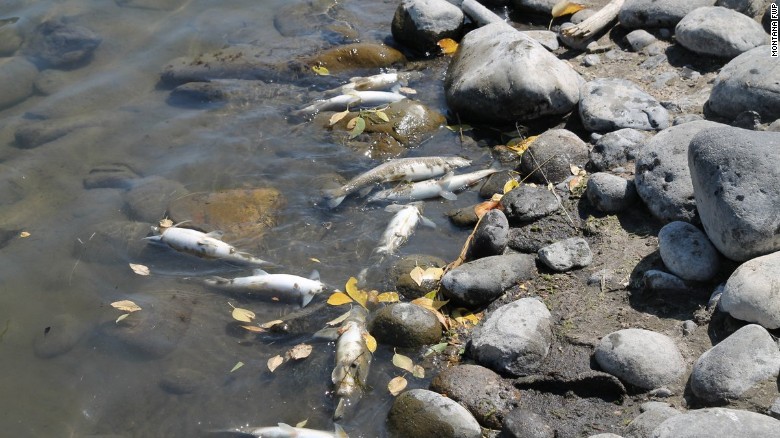 An unprecedented fish kill has closed 183 river miles of the Yellowstone River in Montana, as officials try to contain a parasite that is killing thousands of whitefish.
"We recognize that this decision will have a significant impact on many people. However, we must act to protect this public resource for present and future generations," said Montana Fish, Wildlife and Parks Director Jeff Hagener.
The agency has documented nearly 4,000 dead whitefish since the parasite took hold, but they fear the total impact could be in the tens of thousands.
"We know that we only see a fraction of what's actually dead, and we can only count so many," said agency spokeswoman Andrea Jones. "But at this time we can say tens of thousands have died."
Test results show the area has been hit with a microscopic parasite, Tetracalsula bryosalmonae, that causes a Proliferative Kidney Disease. This combined with near-record low water flows, summer high temperatures and recreation activities has worsened the situation.
The river runs through the Yellowstone National Park. The parasite hasn't been found there, and that portion of the river remains open.
"Crews are actively assessing the Yellowstone River and its tributaries inside the park's northern boundary and have not discovered any dead fish," the park said.
"A threat to the health of Montana's fish populations is a threat to Montana's entire outdoor economy and the tens of thousands of jobs it sustains," said Governor Steve Bullock.
"It's really, really a tragedy, not just for me and my family's business but also for the guide that I had to send home," said Matson Rogers, owner of Anglers West, a fishing guide outpost in Emigrant.
Officials hope that by removing human activity, fish will take refuge without additional stressors, giving them the best chance of survival.
"I think from everything we're seeing we're all hoping that the river is going to be opened next year or sooner," fish biologist Dr. Eileen Ryce said in a news conference.
The parasite does not pose a threat to human or other animals. But authorities are asking residents to keep pets away from decomposing fish along the river banks.
"It's always a good idea to keep your pets away from sick, dead, or dying wildlife," FWP State Wildlife Veterinarian Jennifer Ramsey said.
Governor Steve Bullock is urging people to take this seriously, "We must be guided by science. Our state cannot afford this infectious disease to spread to other streams and rivers and it's my responsibility to do everything we can to stop this threat in its tracks and protect Montana jobs and livelihoods."