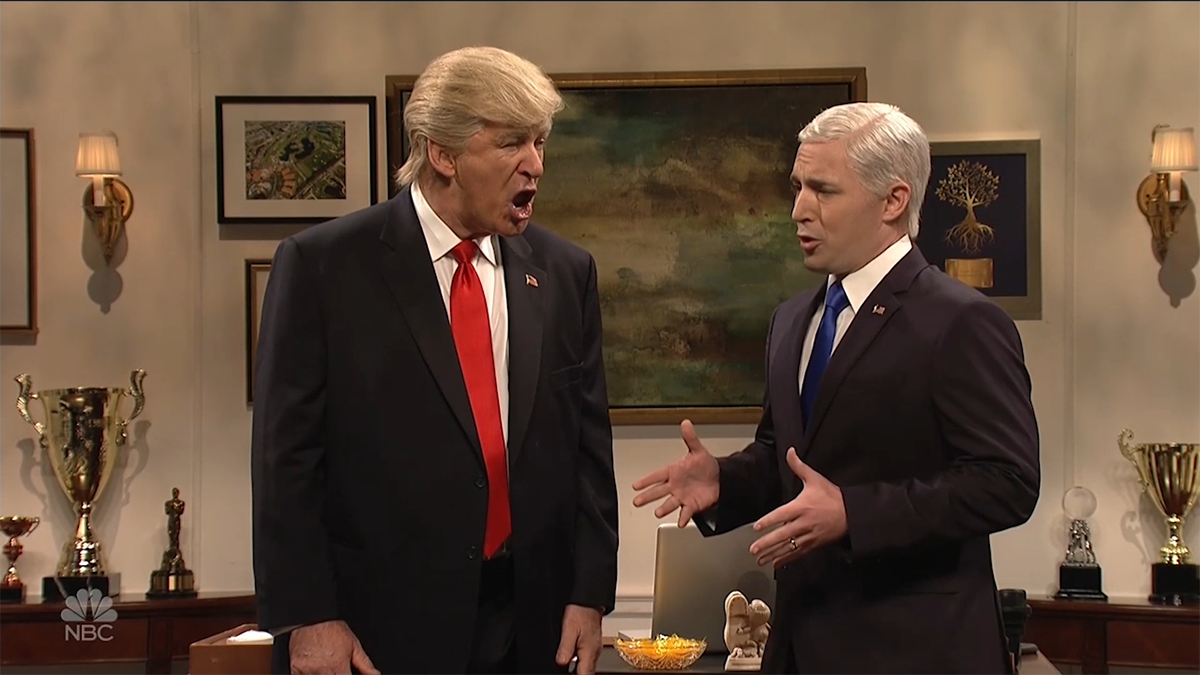 Alec Baldwin came back to "Saturday Night Live" this end of the week in his first post-decision appearance, depicting President-elect Donald Trump as he ponders his move from competitor into head of state.
The frosty open didn't include a pretentious Trump, however one gradually dealing with the truth of what the administration involves. Crusade chief Kellyanne Conway, played by Kate McKinnon, progressively becomes disgusted as she ushers face to face after individual to meet with the new president.
[VIDEO: The many countenances of SNL's Donald Trump]
After Gen. Joseph F. Dunford, director of the Joint Chiefs of Staff, advises Trump that he is so eager to find out about the "mystery" plan to crush the Islamic State, Trump swings to his tablet. "Alright, ideal, here we go. Here we go. Huge arrangement. Huge arrangement. Google, 'What is ISIS?'" Trump says. "Goodness my — 59 million results."
He then grabs his telephone: "Siri, how would I execute ISIS?" Turns out he was talking into a Blackberry.
[Saturday Night Live's "Air pocket" drama about liberals trying to claim ignorance over Trump was perfect]
The scene drew moment feedback from genuine Trump on Twitter, a day after he requested a conciliatory sentiment from the cast of "Hamilton," who had presented a short message to gathering of people part Vice President-Elect Mike Pence.
Baldwin reacted on Twitter to the protests, composing, "Equivalent time? Decision is over. There is not any more equivalent time." He additionally composed that now as Trump tries to be president, individuals react and "that is essentially it."
The on-screen character kept, tweeting about what he would do as president: "I'd be centered around enhancing our notoriety abroad, including really battling for opportunity and not simply oil."
It's indistinct whether Baldwin will keep depicting Trump for the rest of the season; a delegate for the show declined to remark.
Trump facilitated SNL a year back this month, in a scene that brought gigantic appraisals, contention and terrible audits. After a year, the show has drawn his rage.
In October, he alluded to a scene as a "hit work on me. Time to resign the exhausting and unfunny show. Alec Baldwin depiction sinks. Media fixing race!"
[Here's the SNL portray that at last went too far for Donald Trump]
SNL treated Trump's triumph over Hillary Clinton a week ago with a serious tribute to Clinton by a heartbroken McKinnon that included no jokes by any stretch of the imagination.
In this present end of the week's chilly open, an out-of-work Virginian tells Trump that in the event that he can fabricate a $25 billion, 2,000-mile divider on the Mexican outskirt, he can bring back each and every occupation that has been lost as of late. Trump then says, "$25 billion? It can't be that much — Oh God, goodness God, don't stress, Donald. It'll be alright. Hillary is still ahead in the surveys."
Glove Romney, played by Jason Sudeikis, even appears for a developed, ungainly handshake.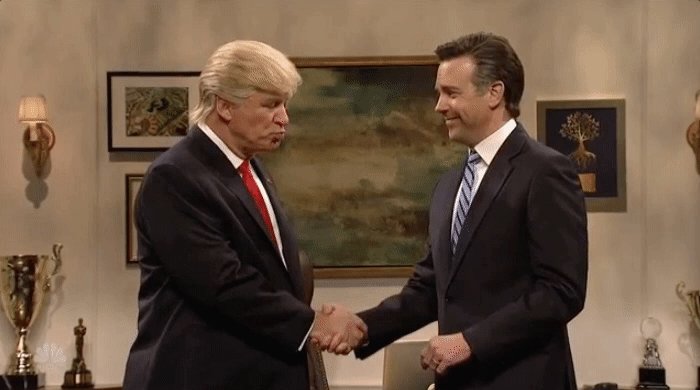 Romney, once a furious commentator of Trump, met with the Trump move group prior this week.
Later in the outline, Pence shows up and says that "Hamilton" was great. "I got a free address." He then goes through all the forthcoming plan things and the barricades to completing them: revoking Obamacare; distinguishing and ousting 11 million illicit migrants; enlisting an uncommon prosecutor to follow Clinton.
"Scrap it. Scraaaaped," Trump reacts to the arrangements.
"Sir, being president is not going to be easy," Pence says. "But we'll get through it if we work hard, together."
"Thank you, Mike," Trump responds. "You're going to do everything, right?"