Picture of Nzubechi Maureen Onyia where
she pose with white long sleeve, black mini top
with net covering her laps and legs with two
push up breast
For Nollywood starlet, Nzubechi Maureen Onyia popularly called Nzube Onyia, heart breaks are one of the emotional feelings she dreaded after her ex dumped her few years ago.
However, that was the starting point of her movie career, as the heart break took her to another level.


In this interview with news Agency the light skinned script interpreter, shares her inspiringly success story, regrets and love life.
Excerpts:
I choose acting because it's something I have strong passion for. It's like a burning fire inside of me.


If not acting what else would you be doing?
I would have been a teacher if not acting.
Aside acting, what else are you into?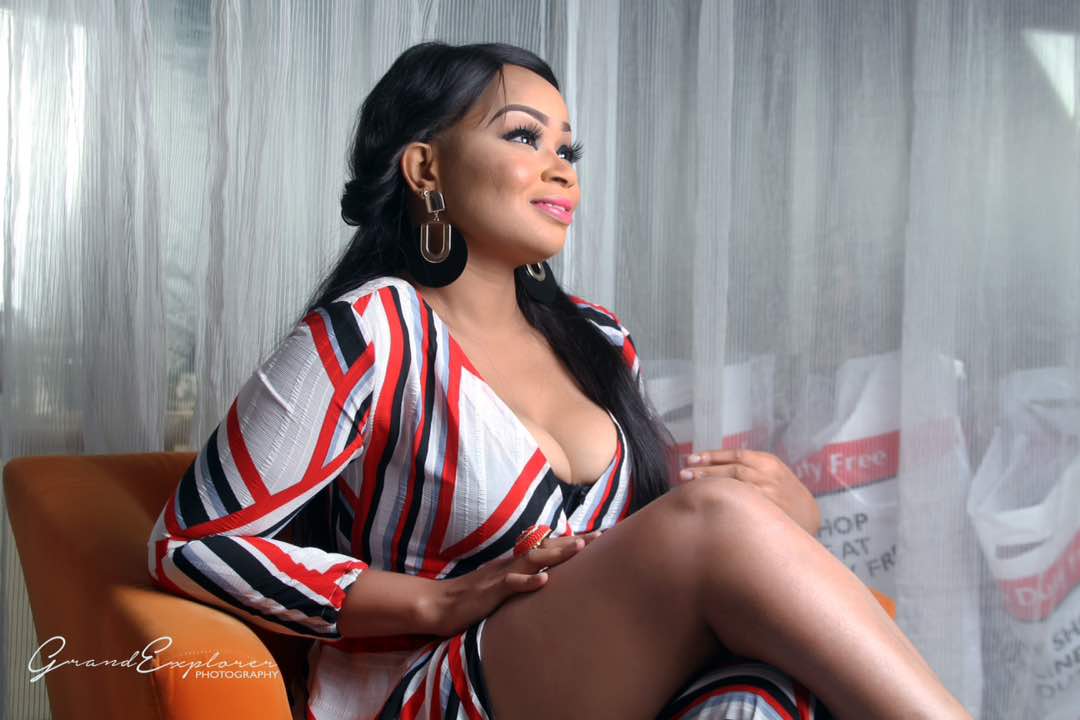 Onyia Nzubechi Maureen sitting on brawnish
chair with the pup up breast like that of Eve

Briefly tell us how it all started?
It started way back 2011. After graduation when I had a serious heartbreak, and one voice said to me "Why do you want to kill yourself over a man?".
It was more like, why don't I go out there to show the world what I have inside of me. So, that was how I carried my bag and left for Asaba.
What's your take about the sex for role issue that is looming the industry of today?


Trust me it's actually not my problem. I don't care about other
people's privacy
.
I care about my life and to the things ahead of me.
What movie will you rate as being challenging to you?


I will give it to Ojukwu, the Warlord. I acted alongside Queen Nwokoye, Eniola Badmus and a few others. It's really challenging, because I played the role of a ghetto girl. Not just that, a fulltime 'Agbero' in a local park.


What motivates you?

For me, it's just that passion. The zeal to bring to limelight that talent inside of me is basically the motivation.
How do you manage your male fans?


I'm nice to them, though I put limit to our various level of conversation. I really don't cross boundaries.


How do you see the change being controlled by the present government?


This is no change, instead what we have is chase; chasing us into a miserable situation. Nigeria is now a country where you work more to earn less.

It used to be bad, but now it's worse. Everything is so frustrating that I doubt what the future holds for the young people.

While growing up, I used to hear that the youths are the future of tomorrow, and here we are, the government has nothing to offer the youths – so called 'future of tomorrow.'

It's really unfortunate that we have a country that the government cannot stand for the citizens.


What upsets me the more is that they travel out and see how developed other countries are, yet they do nothing about changing things here.
Nzubechi Onyia Where she wore Amazing
black and white necklace

What project are you currently working on?
I'm currently working on a job titled Ogazi. It's really not mine, as I'm only co-starring.


What's your most embarrassing moment like?


It's the day a producer told he won't be paying me after I acted on a job. He said, "he is doing me a favour." I can't forget that day as it made me cry.
What can't you let go in your everyday life?


There is nothing I can let go. In fact, everything associated with me is very important.


You have regrets?


Yes, I do have my regrets. There are people I associated myself with in the past that today I wish I never did.


If you have an opportunity to change something, what would it be?


It's that very situation where and when I will find myself changing the lives of young Nigerian youths. I need to see myself where jobs will be created for them.


What can attract you to a male?
Nzubechi Maureen Onyia showing v curve of her
Adams fruit (breast) with her pink lips.
It's his sense of humour and maturity, that's what will attract me to a male.


What are your career plans for the next two years?


It's seeing me in that next and big level where my career will be appreciated by everyone in the world.
Do you have words of advice for the up and comings?


They shouldn't lose hope because the future is bright that they can imagine.